If you haven't registered your business on Apple's new Business Connect platform, you should register it now.
Apple introduced its new Business Connect platform on January 11th, 2013, which allows businesses to customize the way their information appears across Apple apps like Apple Maps, Messages, Wallet, Siri, and other apps.
With more than 1.2 billion iPhone users and 118 million of those users in the United States alone, it's crucial to optimize your Business Connect listing.
While Apple Maps Connect for nearly a decade, their new Apple Business Connect platform gives you much more ability to customize your listing and doesn't pull data like photos and customer reviews from third-party sites like Yelp and TripAdvisor anymore.
This new update basically brings Apple Maps up to par with Google Business Profiles for local searches on Google Maps and it's likely the first step toward Apple launching search ads on Apple Maps.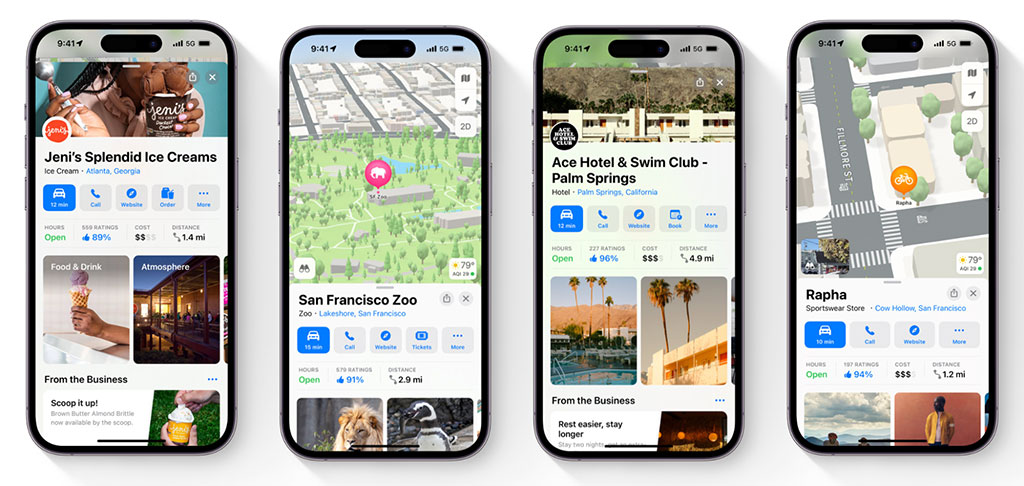 1. Create Your Apple Business Connect Profile
Get started by either creating or claiming your business listing at https://businessconnect.apple.com/
To log in you will need to use an Apple ID you want to be connected with the business and follow the on-screen steps to claim or add your business which typically includes phone verification to verify that you legitimately represent the business.
Note: The Apple Business Connect doesn't currently allow multiple admins for each business although you can have multiple locations associated with a single Apple ID.
For anyone working on a multi-location business, there is now API functionality to manage multiple listings on Apple Maps.
2. Update Your Basic Business Information
Once you have claimed your listing, the Apple Business Connect dashboard allows you to edit your basic business information that will appear on your Apple Maps place card.
Start by making sure your business name, address, phone number, business categories, hours of operation, website URL, and social media profile URLs.
Here are some recommendations to optimize your Apple Business Connect listing:
Consistency: Make sure your business name, address, and phone number are identical across all local business listings such as Google Business Profile, Yelp, Bing Local, and Yellow Pages.
Categories: Add a main category that best describes your industry and add 1-2 relevant subcategories.
Highlights: This section is an opportunity to share the many good to know aspects of your business that make it unique, including its specialty, amenities, and conveniences.
3. Add Your Logo And Photos of Your Business
Apple previously relied on third-party websites like Yelp and TripAdvisor for photos and customer reviews.
You should add your logo and an attention-grabbing cover photo of your business and/or team members to your profile to make it stand out when people search on Apple Maps.
4. Update The New Business Showcases
Note: this feature is currently only available for US-based businesses.
Apple's new Business Connect platform adds a new feature called Showcases where you can present customers with special offers and incentives.
You can provide useful information by highlighting actions to take directly from your Apple Maps place card listing by adding special product or service discounts.
If you have a bricks-and-mortar business that serves customers at a specific location it's a good idea to opt into Tap to Pay on iPhone which allows you securely accept Apple Pay and Apple's Business Essentials, a subscription that makes it easier for customers to pay with their iPhone.
5. Add Customer Call To Action Buttons
Note: this feature is currently only available for US-based businesses.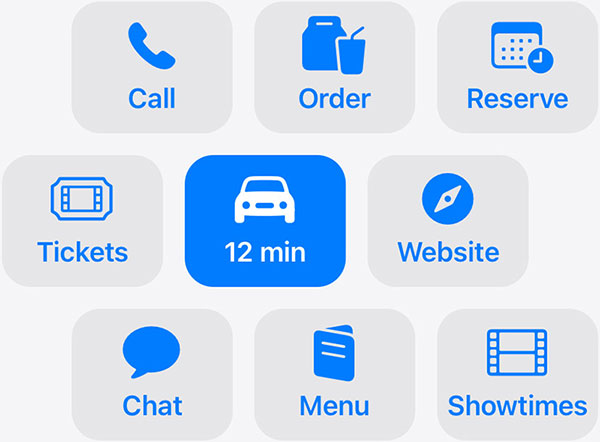 The customer call-to-action buttons are prominently placed on each Apple Maps place card.
The call-to-actions include:
Appointment booking
Call or chat with the business
Ordering food or groceries through Instacart
Making a reservation through OpenTable
Booking a hotel through Booking.com
Buying tickets
6. Reach Out To Customers For Reviews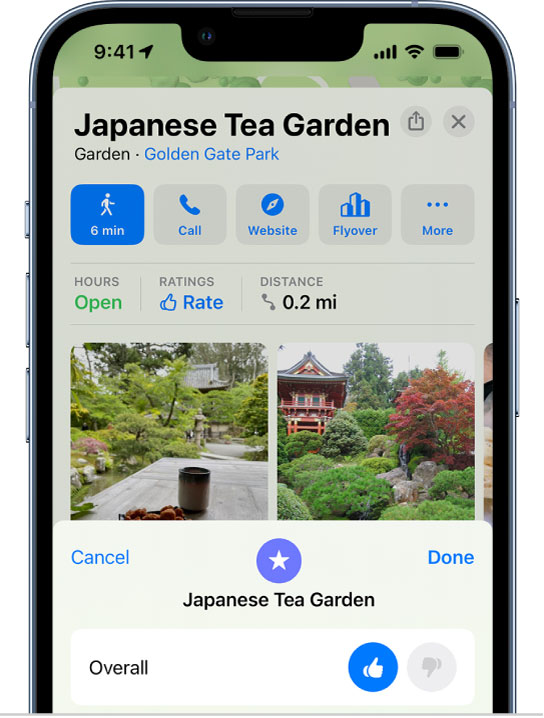 The most important part of your new Apple Business Connect profile is going to be the reviews you get from satisfied customers.
The easiest way to get a review is to have the customer search for your business on Apple Maps or you can email them a link directly to your business listing there.
Once on your business listing on their iPhone, they add a review in two ways under their Apple ID:
Provide ratings: Tap or for the available categories.
Submit photos: Tap Add Your Photos, then follow the onscreen instructions.
Note: If you don't see ratings categories or the rate button on the place card, they may have not rolled out this functionality to your area.
To get the ball rolling, I recommend reaching out to previous customers to solicit at least 5-10 reviews for your business on Apple Maps.
You should also create a process to have your team members encourage reviews from
7. Monitor Your Apple Business Insights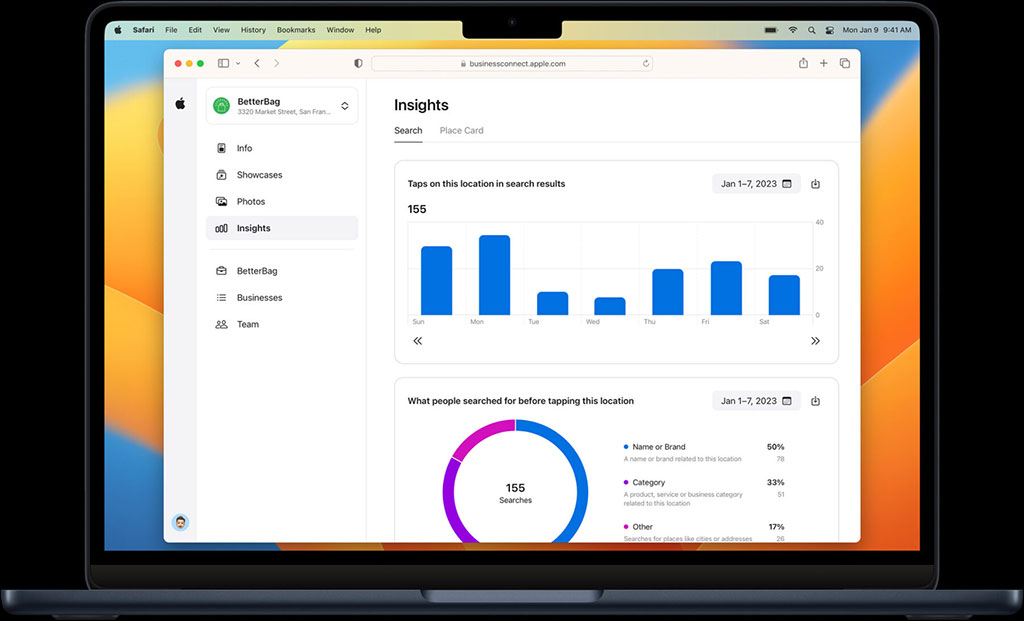 Apple Business Connect also offers insights within their app, which can help you better understand your customers and improve your offerings on Apple Maps.
Currently here's what you can learn from their Business Insights:
What people searched for before visiting your location place card
Key insights about the performance of your place card
Learn More About Local SEO
You can get more customers at your local business by improving your rankings in local research results on Google Maps and Apple Maps.
To rank near the top for local searches, the online information for your business must be detailed and consistent across different local business data aggregators and you need a solid profile of backlinks from authoritative websites in your area.
I can help you:
Develop a local search strategy
Manage your Google Business Profile
Manage Apple Business Connect
Optimize your local search presence
Get more appointments from your website
Gain more visibility for your brand by scheduling a content strategy session with me where I will outline a customized plan for your business to get more customers each month from local searches.